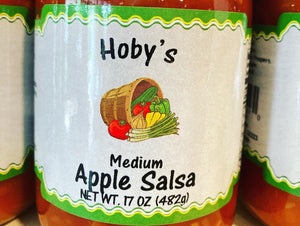 **You can build your own 3-pack by changing options 2 & 3 to your choice.
Description of Product:

 this sweet southern peach salsa is sure to pair well with your baked chicken or topped on grilled fish. The sweetness of southern peaches combined with the acidity of tomato & savory flavor of onions makes this a versatile offering.
Ingredients:

 Peaches, Tomatoes, Onions, Jalapeno Peppers, Tomato Paste, Spices, Vinegar, Citric Acid
Taste Notes & Texture:
 Sweet.Savory.Acidic.Chunky.
WAYS TO USE:
1) SCOOP CHIPS: find some scoop chips and put this peach salsa out for your next party or tailgate.
2) FISH: a good accompaniment to a nice grilled or baked fish dish, this peach salsa will absorb well into the fish,. when cooked with it.
3) TACOS: peach salsa makes tacos just a little bit beter
4)NACHOS: top your mound of nachos with this peach salsa
***There are no artificial colorings, flavorings, or preservatives in this product.