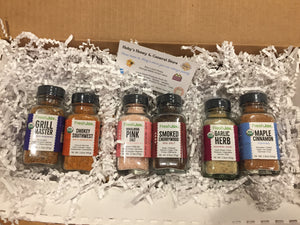 6 assorted small gourmet spices  
Grillmaster: a burger seasoning meant to kick up the flavor
Smoky Southwest: a blend of western spices for a nice adobo tex-mex flavor
Maple Cinnamon seasoning is diverse. Put it in coffee & cappuccinos , try it with desserts, or use it in a homemade rub blend for meats.
Smoked Cherrywood Sea Salt: a sweet smoky foavor that is great with pork and grilled vegetables

Garlic & Herb : this salt free seasoning is very diverse and can be used on a wide range of dishes. It imparts a savory herbaceous flavor
Pink Himalayan Sea Salt: one of the world's cleanest salts loaded with great mineral content. Has a crisp light flavor and is great with raw tomatoes or fish entrees
These are packaged in the USA spices blended in Jacksonville Florida with organic & kosher ingedients.
There will be a nice mix of both spices and salts.
You may customize your order upon pickup and replace or change any choices for ones available in the store that you may like better.
Call 904-701-4769