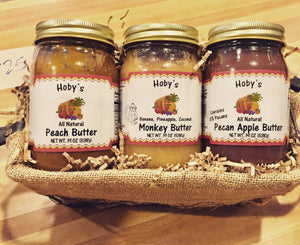 This 3 Piece collection is a perfect gift for the brunch & breakfast lover.
These purées of Fruit are an excellent breakfast and brunch accompaniment. Break out the biscuits, toast, waffles, or pancakes.
These items are called butters but there is not actually butter in them, that just describes the puréed soft texture.
This basket includes:
(1) 16oz Apple Butter
(1) 16oz Peach Butter
(1) 16oz Monkey Butter (banana, pineapple, coconut)