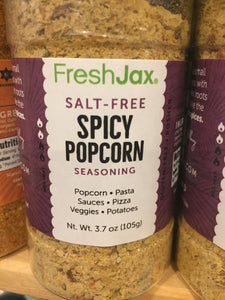 Available in small & large
 Kick up that homemade popcorn and turn it into something amazing with Spicy Popcorn seasoning from FreshJax
Add a little heat to your next bowl of popcorn with Spicy Popcorn Seasoning. This salt-free, dairy-free, all-natural blend is a healthy and nutritious way to spice up this classic snack. Try it in spaghetti sauce and on top of pizza too!
Pairings
Popcorn, Pasta, Sauces, Pizza, Veggies, Potatoes
Ingredients: Nutritional yeast, organic smoked chili flakes, organic paprika, organic cumin, organic chipotle pepper, organic cayenne pepper, organic cracked black pepper, organic garlic, organic oregano.
Friendly For:
Gluten-free
Vegan
Kosher
Whole30
Keto
Heart Healthy/Salt-free
Daniel Fast
Mediterranean Diet