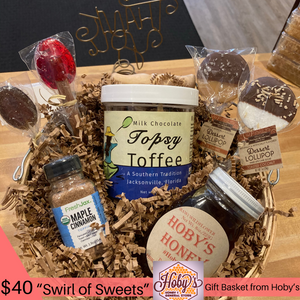 This cute basket has a "swirl of sweets" that is certain to make someone smile.
It starts with a jar of artisan made Chocolate Toffee Bark that is nothing short of heavenly. Almonds, chocolate, & toffee combine to form a thin, bark shaped, delightful treat. Use it on ice cream, crush it on cupcakes, or eat it straight.
Next we throw in some Maple Cinnamon spice, a versatile spice soon to be a staple in your cabinet. Use it on everything from breakfast foods like waffles, pancakes, biscuits and even in your coffee. It is also great on ice cream or pastries. To round out its usefulness, the Maple Cinnamon spice can also be used on sweet potatoes.
Next up, sweet sweet honey. This 8oz jar of raw honey offers the perfect compliment to tea, breakfast, and is great as a sugar replacement in cooking.
We also throw in a few honey candy tea spoons for sweetening & flavoring your tea. (They can be just eaten like a lollipop too :)
Lastly, we throw in gourmet lollipops that are certain to satisfy all ages.