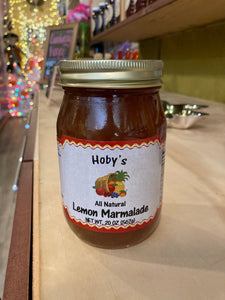 Description of Product:
 This Lemon Marmalade Jam uses the lemon peel, & lemon juice to make a classic country jam. With a bitter & sweet profile this marmalade plays with the palette offering opposing taste profiles that just work great together.
Ingredients:

 Lemon Juice, Lemon Peel, Sugar, Lemon Juice, Pectin
Taste Notes & Texture:
 Very Fragrant. Aromatic. Rich. Thick.
WAYS TO USE:
1) COOKIES: lemon marmalade is a wonderful ingredient in many cookie recipes. get creative.
2) GLAZED FISH: glaze your fish with this lemon marmalade for a sweet, & savory finish.
3) CROISSANTS: flaky morsels of heaven as they are, croissants go great with lemon marmalade.
4)CHEESE PLATES: lemon marmalade is a great accompaniment on cheese plates & boards.
***There are no artificial colorings, flavorings, or preservatives in this product.